Blog
Stories From Your Neighborhood
Find recent stories from ICCF Community Homes on our path towards housing justice.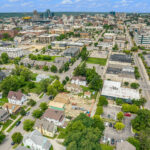 Blueprints
Dear ICCF Community Homes friends and partners, One of the biggest blessings of working in affordable housing is getting to meet families who moved from a state of despair to long-term stability and thriving. Many of them are writing their own stories that began before my time at ICCF Community Homes and will continue long […]
Stay Up To Date
Positive stories delivered straight to your inbox. Join our e-newsletter.